Looking for a great study and fellowship? You'll Get Through This by Max Lucado is the new read for our Men's Book Study, beginning March 10. Pick out a venue and join us! Good book, good coffee and good community!
About the Book
You'll Get Through This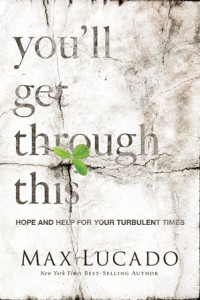 "You fear you won't make it through. We all do. We fear that the depression will never lift, the yelling will never stop, the pain will never leave. In the pits, surrounded by steep walls and aching reminders, we wonder: Will this gray sky ever brighten? This load ever lighten?
In this six-session small group Bible study, pastor and New York Times best-selling author, Max Lucado offers refreshing assurance. Max reminds participants God doesn't promise that getting through trials will be quick or painless. It wasn't for Joseph—tossed in a pit by his brothers, sold into slavery, wrongfully imprisoned, forgotten and dismissed. But his Old Testament story is in the Bible for this reason: to teach us to trust God to trump evil.
With the compassion of a pastor, the heart of a storyteller, and the joy of one who has seen what God can do, Max explores the story of Joseph and the truth of Genesis 50:20. What Satan intends for evil, God redeems for good."
Weekly Meeting Times
Various days and locations are available. Check the Men's Ministry page for details.
Books Availability
Books are currently available from the Oakhurst Campus for $14 per book. You may call Nancy at 304-346-0431 or send an email to request a book to be left at the receptionist desk (Oakhurst Campus). You may also contact your book leader to purchase your book.