Sunday, April 20 • 7 AM • 9 AM • 10:45 AM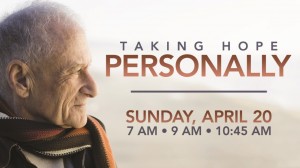 Join us for one of our three morning services as we celebrate the resurrection of our Lord and focus on Taking Hope Personally.
7 AM (sunrise service)
9 AM (contemporary)
10:45 AM (traditional)
In our age, life can seem empty and devoid of substantial meaning.  What possible connection is there between my empty life and Christ's empty tomb?  It is when, by faith, we take up following Jesus Christ that simultaneously we take hope personally.  Hope becomes steadfast and sure from our beginning with Jesus.  The tomb is empty!