Looking for a great study and fellowship? Louder than Words by Andy Stanley is the new read for our Men's Book Study, beginning June 23. Pick out a venue and join us! Good book, good coffee and good community!
About the Book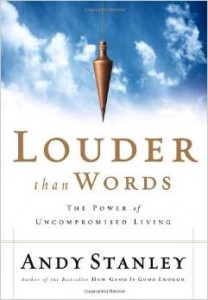 Louder than Words

"Your character, more than anything else, will impact how much you accomplish in this life. It is more important than your talent, your education, your background, or your network of friends. Andy Stanley helps you chart a course toward becoming a man or woman of character. You'll discover a definition of character that will inspire you for a lifetime, the external and internal benefits of strong character, the six false beliefs behind negative behaviors, and more. Using practical insights, biblical exposition, and engaging stories, Stanley guides you step-by-step in setting the personal goals that will build the foundation for true success."
Weekly Meeting Times
Various days and locations are available. Check the Men's Ministry page for details.
Books Availability
Books are currently available from the Oakhurst Campus for $13 per book. You may call Nancy at 304-346-0431 or send an email to request a book to be left at the receptionist desk (Oakhurst Campus). You may also contact your book leader to purchase your book.