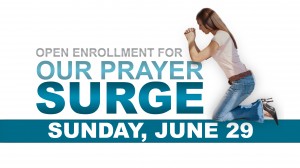 Open enrollment for the Prayer Surge begins Sunday, June 29, during the morning services.
For your convenience, you will also be able to register online, beginning June 15.
It's a fresh start, so all who wish to participate must sign up for the new Prayer Surge year, even if you signed up for a previous year.
Commit to praying 1 hour for each week for 1 year
Join hundreds already committed to this vital church ministry