* * * Church Group SPECIAL  for the month of July only:
Buy 10 and Get One FREE! * * *
Friday, September 12 • 7 PM | Saturday, September 13 • 9:00 AM

Our event begins Friday, September 12th at 7:00 PM.  Our speaker will be Kelly Minter, author and worship leader. Kelly has written the Living Room Series of Bible studies and is a Women of Faith speaker. To learn more about Kelly, go to kellyminter.com.
In addition, we are pleased to welcome singer and songwriter Jason Gray, known for his songs, "With Every Act of Love", "Nothing is Wasted", "Remind Me Who I Am" and "Good to Be Alive".
This encouraging Conference will continue Saturday 9:00 AM through 3:00 PM, with our traditional lunch break at noon.  The ticket price includes: a full concert, three teaching sessions and a beverage break on Saturday morning.
Tickets
Early Bird tickets are available through August 24 for $40.
After August 24th, tickets are $50.
Conference Flyer
[gview file="https://www.biblecenterchurch.com/wp-content/uploads/2014/04/14-Womens-Conference.pdf"]
Southridge Campus Directions
100 Bible Center Drive • South Charleston, WV 25309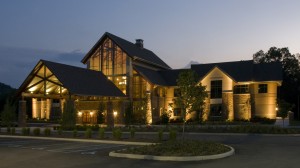 The Southridge Campus is located just off Rt. 119 (Corridor G). If you are traveling south turn left onto Parkway Road (mile marker 74.4) just past the Southridge Shopping Area. Parkway Road is the first left past Moses Factory Car Outlet. Turn right onto Bible Center Drive.
[iframe src="https://maps.google.com/maps?f=q&source=embed&hl=en&geocode=&q=100+Bible+Center+Dr,+Charleston,+WV+25314&aq=0&sll=37.0625,-95.677068&sspn=49.043149,114.169922&ie=UTF8&hq=&hnear=100+Bible+Center+Dr,+Charleston,+Kanawha,+West+Virginia+25309&t=h&z=14&iwloc=A&ll=38.316474,-81.721802&output=embed" width="100%" height="350″ frameborder="0″ marginwidth="0″ marginheight="0″ scrolling="no"]
View Larger Map