Discover What You Believe and How to Stand for It
July 23, 30 & August 6 • 6:30 PM
How far would you go to defend your belief in God?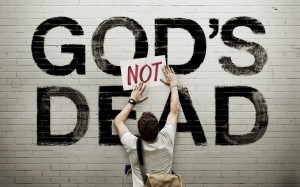 Josh Wheaton is a college freshman and devout Christian, whose faith is challenged in the first day of his philosophy class. Informed by his professor that he must disavow the existence of God or fail the course, Josh offers a nervous refusal. His professor then assigns him a daunting task to prove God's existence by engaging the professor in a head-to-head debate in front of the class or fail the course and hinder his academic goals.
God's Not Dead weaves together multiple stories of faith, doubt, and disbelief and culminates in a dramatic call to action.
Join Us…
Movie Screening: Wednesdays, July 23 and July 30 @ 6:30 PM
Panel Discussion: Wednesday, August 6 @ 6:30 PM
How did the movie touch your life?
After watching God's Not Dead, we will host a panel discussion with a university professor, graduate, and undergraduate college students about living out one's faith in the environment on the public university campus, which has probably never been as hostile to gospel faith as it is in this moment. We will also consider how we, as a church family, might be supportive to our college students.