Friday and Saturday, September 12-13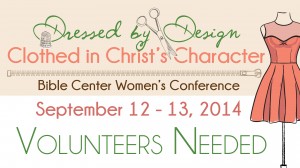 Kelly Minter and Jason Gray will be our featured Conference guests. Volunteers are needed in various areas: Greeters, decorating, beverage team, promotion and ticket sales. To volunteer, check the Communication Tab in the bulletin, and you will be contacted (ticket required).
Men Can Volunteer Too!
You can help support this year's Conference by:
Signing up to come pray in the Prayer Chapel at the start of each session,
Covering a 2-hour shift at the Info Desk, so all our ladies can attend each session,
Being a parking lot attendant or mini bus driver.
Sign up via the Communication Tab in the bulletin (no ticket required).