Friday, September 26 • Southridge Campus • 6:30-9 PM • $3 each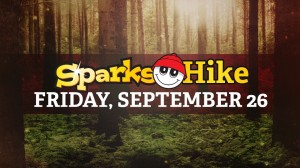 Sparkies and their families will meet at the south parking lot. If you have any questions, please contact Nancy Bliss. If weather is a concern on the event day, please call the church 304-346-0431.
Help us plan by completing the form below by Wednesday, September 24, to let us know how many are coming.
[gview file="https://www.biblecenterchurch.com/wp-content/uploads/2014/09/14-Sparks-Hike.pdf"]