Week 1 • Static (9/10/14) • Element & Fusion
Series Overview: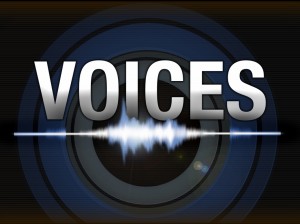 There are voices in your head. Whispers when you look in the mirror or at people around you. Words luring you to find something better than where you are. In fact, it is the pull of these voices that get us off track. Behind the voices is an Enemy, Satan. His mission is your destruction. His whispers and words can completely mess with how we see ourselves and our world—unless we start listening to a better voice, God's, and work with Him to silence the voice of the Enemy.
Outline: Voices – Week 1 outline
Scripture References: 1 Peter 5:8-10; Ephesians 6:12
When you hear the word "devil" what do you think of? Why?
First Peter 5:8 says our Enemy prowls around us like a lion looking for someone to devour. Does that change your picture of the Enemy? What does that tell you about the one who is against us?
How would you characterize our Enemy based on the talk? (He is our accuser. Our adversary. A slanderer. One who plots against us. A lion who prowls around us.) How is this different from how you thought of him before?