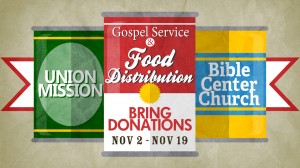 We are receiving canned food donations for the annual Union Mission Holiday Food Distributions. You can volunteer to help with the Thanksgiving Gospel Service and Food Distribution which will be held on November 22.
Volunteers need to arrive at 7 AM to receive work assignments and final instructions which will be based on your preference to work inside or outside. After signing up to volunteer, you will be contacted with details.
Thank you for helping to impact our community with love in Christ's name!
Volunteer
Sign up online, at the Info Desk, or by using the Communication Tab in the bulletin
Sign up by November 19