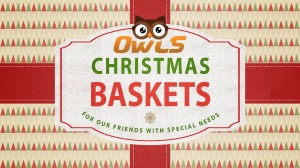 The OWLS will be making Christmas baskets for Bible Center friends that are shut-ins or in nursing homes. Please sign up at the Info Desk to bring needed items, or make a donation (a list of items needed is at the Info Desk).
Please write "OWLS Christmas Baskets" in the memo line. Items and donations can be dropped off at the Info Desk through Sunday December 7.
Items you may wish to donate:
Small jigsaw puzzles
Puzzle books
Boxes of tissues
Bottles of lotion
Tubes of toothpaste
Toothbrushes
Memo pads
Ink pens
Packages of sugar free candy or mints
Bottles of hand sanitizer
Tubes of Chapstick
Chips
Crackers
Fruit
etc.