Order by November 16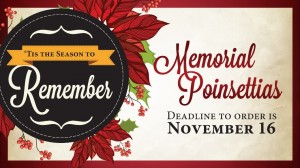 Once again, we will be decorating the Worship Center with beautiful poinsettias in honor of those who have shared the joys of the season with us in the past. These poinsettias will be displayed on December 7 and available for you to take home, if desired, after the second Candlelight Service on December 24. All poinsettias must be picked up by December 28. On Sunday, December 14, a memorial listing will be available on the website, and at the Info Desk, and names will be displayed on the screens prior to our services.
If you would like to purchase a poinsettia in memory of a loved one or friend, please complete the form below and place it in the Response Box, along with your payment, by November 16 (checks made payable to Bible Center Church).
These red poinsettias will be available in 3 sizes:
Small – $10
Medium – $16
Large – $24
Please contact Paula Toney if you have any questions.
Order Form
[gview file="https://www.biblecenterchurch.com/wp-content/uploads/2014/11/14-Memorial-Poinsettias.pdf"]