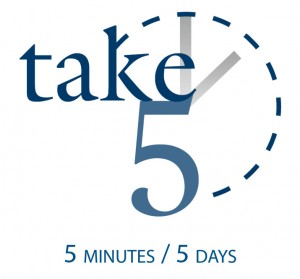 Richard & Michelle Thompson • Children's Ministry Pastor & Early Childhood Director
Jesus Makes a Difference!
During this first week of 2015, let's each take some time to reflect on where we would like to be next year at this time. What changes do you think the Spirit of God wants to make in your life as you strive to be more like Jesus?
Monday: A Fresh, New Start in the New Year
John 5:11-13
It has been my experience, as I talk to individuals about God and their eternal destination that many people know a lot about God. My concern is that there is a big difference between knowing about God and truly knowing God. How does one truly know God? That answer is found in Jesus, who said that if we know Him we know the Father (John 14:6-7). To personally know Jesus as our Savior happens when we admit our sin, our need for a Savior, and believe that Jesus came and died to be that Savior.
The best start you could have for this New Year would be a brand new start in life by becoming a Jesus-follower!
For Today: If you have not received Jesus as your Savior, pray and accept His gift of salvation today!
Tuesday: Let Jesus Make You New This New Year
Galatians 5:16-24; John 15:5
We are on a mission at our house to simplify, de-clutter, and organize. This process doesn't just happen; it is a lot of work! But, when a room is finished, it is amazing how it can feel like a whole new space. God is on a similar but far more important mission in our lives – to make us totally new. He wants to rid us of the sinful, selfish habits that clutter our hearts and, instead, make us more like Jesus. We need to realize, however, that no matter how many New Year's resolutions we make, we can't make these spiritual changes on our own. Without Him, we can do nothing. We need to make the time investments necessary in order to spend time with the Lord and allow His Spirit to do the hard work of de-cluttering our souls.
For Today: Make spending time in the Word and praying a priority so that God can change you.
Wednesday: Dress for Success this New Year
2 Corinthians 5:17; Colossians 3:12-17
I read an article recently that reminded me how unable we are to change on our own. Charles Edward Hall has played Santa Claus in the Radio City Christmas Spectacular since 1987. In the article, he talked about how different he feels when he puts on the Santa Suit – "I wish I could wear this Santa  suit all the time. If I did, I could never be angry or mean. I'd be a better person every day." Instead of wearing a fictitious character's costume, God wants us to "put on" the character qualities of compassionate hearts, kindness, humility, meekness, patience, forgiveness, and love. If we could wear those qualities consistently, we would each be "a better person every day."
For Today: "Put on" the godly traits listed above to become a "better person every day"!
Thursday: First things First
Matthew 22:37-38; Colossians 3:14
Love God with all my heart. Sounds easy enough, right? Love Him – I do. With ALL my heart…In this busy world, that is easier said than done. I think Satan knows he doesn't have to convince God's children not to love Him, he only has to distract us. In the crazy busyness that many of us make of our lives in this world, we tend to crowd out the most important thing with other good things. We need to constantly be reevaluating our schedules and make sure that we have made the Main Thing, the main thing – that is our relationship with our God and Savior.
For Today: Take time today to evaluate your schedule and heart. Is anything crowding God out of His rightful place – first place?
Friday: On being Neighborly…
Matthew 22:37-39; Luke 10:27-37
As Jesus was speaking one day, a legalistic lawyer asked Him to define who he had to love as a neighbor. He wanted the Lord to give him exact "neighbor parameters" – four doors down? Two? Instead, Jesus tells the story of the good Samaritan and then asks the lawyer which man proved to be a neighbor to the injured man.  When God asks us to love our neighbors, it often requires sacrifice and stepping out of our comfort zones. Loving our neighbor is an individual assignment; God has specific need for each of us to meet.  In our family, our neighbors include a 6-year-old foster son and an elderly friend with dementia, but I may never meet your "neighbor." Please love your neighbor!
For Today: To which "neighbor" does Jesus want you to show kindness and mercy today?