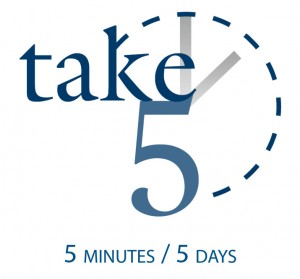 Robert Ballard • Pastor of Worship Ministries
The Greatest Love of All
This time of year, our thoughts often turn to things of love. Every shelf in every store seems to be filled with heart-shaped candies, balloons, romantic cards, and red roses. Even many of the world's most popular songs are written with a theme about love.  In May of 1986, the number one song on the Billboard charts for three weeks in a row was titled "The Greatest Love of All." But, how often do we stop and think about God's love? How often do we grasp the reality that we are loved unconditionally by our Heavenly Father? Let's take five minutes each day this week as we look at the greatest love of all time.
Monday: A Love that Never Changes
Psalm 89:2
Have you ever had one of those days when it feels that no one loves you, no one cares, no one understands? In times like these, it is good to stop and be reminded that God's love never changes. No matter what we have done, no matter what we will do, God's love will remain the same. Psalm 89:2 is such a wonderful promise to stand on, as it says, "I will declare that your love stands forever, that you have established your faithfulness in heaven itself." In other words, God's love stands firm. It is immovable, unshakable, and unable to be anything else. He has already established His love for you before time began. The Apostle Paul understood this love, and he describes it so well in Romans 8:38-39. Paul was convinced that nothing could separate him from God's love. Angels or demons, death nor life, height or depth, or anything else in creation…NOTHING can separate you from God's love!
For Today: Rejoice in the fact that you are loved with an unchanging love!
Tuesday: A Redeeming Love
Romans 5:8
Here is the proof! If there was ever a doubt that God loved us, then that doubt is totally removed when we look at the cross. God saw our sinful condition and that we were headed down a road of eternal separation from Him. A Father's love couldn't let that happen, so God demonstrated His own love for us in this way: while we were still sinners, Christ died for us (Romans 5:8).  Webster defines the word "redeem" as meaning to "buy back" and to "free from captivity."  As believers, we have been bought back. The price was the blood of Jesus – His very life. As believers, we now belong to Him. We are free in Christ! I love the newer chorus that is often sung with Amazing Grace. "My chains are gone, I've been set free, my God, my Savior has ransomed me; and like a flood His mercy reigns, unending love, amazing grace."
For Today: Take time today to thank God for His redeeming love.
Wednesday: Love that Forgives
Isaiah 38:17
As part of our human nature, it is sometimes difficult to forgive someone who has wronged us. But it is even more difficult and sometimes even impossible for us to forget about the wrong that has been committed against us. "Forgive and forget." We hear those words together often, but seldom can we truly forget about it. God's love is a love that is able to forgive and forget. Meaning that as believers, any past wrongs have been forgiven and forgotten. Totally erased from God's memory bank.
1 John 1:9 reveals a great truth when it says, "If we confess our sins, He is faithful and just and will forgive us our sins and purify us from all unrighteousness." The moment you placed your faith and trust in Jesus Christ, this forgiveness became yours, so it is time to set guilt aside and claim this great promise: "for as high as the heavens are above the earth, so great is His love for those who fear Him; as far as the east is from the west, so far has he removed our transgressions from us." (Psalm 103:11-12)
For Today: Rest in the fact that God is faithful and just to forgive your sins.
Thursday: Sacrificial Love
John 3:16
My wife, Erin, and I have three boys.  My oldest son just turned seven years old. We celebrated his birthday with a party, and at this party he received several gifts. Anytime my children receive a gift from someone, I make sure that they stop to say "thank you." As believers, we have received the greatest and largest gift of all time! John 3:16 is probably the most memorized verse in all of Scripture. But do we really know John 3:16? Is it so familiar to us that we often skip through it knowing it is there, but not grasping its reality of the sacrificial gift? Think about this: God, our Creator, the One who gave us the very breath that we breathe, loved us so much that He gave His only Son, and whoever believes in Him will not perish but have eternal life. It was God who did the giving. It was God who made the sacrifice to send His Son, Jesus, to die in our place. Love always requires giving something. This greatest love of all time required the giving of His son, as a sacrifice for me. Not just me, but this sacrificial gift was so large that it covers anyone in the world who believes. You will never ever receive another gift this big! A gift, that when received, provides eternal life for all who believe. Today, let's stop and tell God, "thank you" for the sacrificial gift of His Son.
For Today: Stop and take time to thank God for the gift of eternal life.
Friday: God's Love Calls us to Love
John 13:34-35
As Christians, love should always be evident in our lives.  Jesus says in John 13:35, "By this all people will know that you are my disciples, if you have love for one another." More than anything else, our love distinguishes us from unbelievers. Love is a result of knowing Christ. In Galatians chapter 5, we learn about the fruits of the Spirit. In other words, as believers, the Holy Spirit dwells within us, and because of this, we produce spiritual "fruit." There are a total of nine fruits listed, and guess which one is listed first? You got it, love! This love that God calls us to is one where we show love to those around us — even our enemies (Matthew 5:44). Christians are called to show the kind of love that others would see as crazy, the same kind that Jesus showed us: unconditional and undeserved. 1 John 3:18 says "let us not love with word or speech, but truth and action." It is easy to talk the talk, but today, let's show love by walking the walk.
For Today: Ask God to help you show love in your actions today.