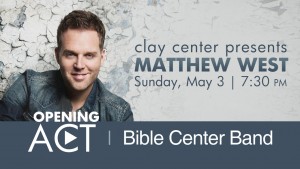 Matthew West, along with Colton Dixon, will be at the Clay Center on Sunday, May 3, at 7:30 PM. Bible Center Band will be opening at 7:20. Join us for a night of great music. Get your tickets today!
To buy tickets today at the box office, call 304-561-3570 or visit the Clay Center online at tickets.theclaycenter.org.
We hope to see you at the show!