Study Begins April 13
Looking for a great study and fellowship? Man Up! is pleased to introduce you to The Gospel of Mark by Max Lucado. Pick out a venue and join us! Good book, good coffee and good community!
About the Book
The Gospel of Mark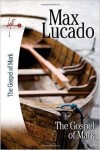 This is the 32nd book that men around the Kanawha Valley will study,  and it will act  as a companion to help us grow together and grow with God. This book brings the Gospel of Mark to life. It is filled with intriguing questions, inspirational stories, profound reflections and a space for journaling. Most importantly, it answers the question: Can I trust Jesus for the answers in my life?
Weekly Meeting Times
Various days and locations are available. Check the Men's Ministry page for details.
Book Availability
Books are currently available from the Oakhurst Campus for $10 per book. You may call Christine at 304-346-0431 or send an email to request a book to be left at the receptionist desk (Oakhurst Campus). You may also contact your book leader to purchase your book.