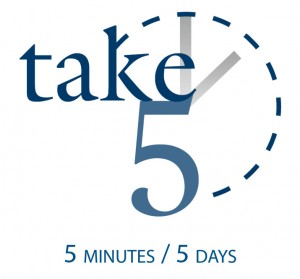 Troy Thornton • Pastor of Outreach & Small Groups
Monday: Walk in Newness of Life!
Romans 6:4
Spring is a rejuvenating time of the year. With all of the buds, blossoms, and fresh green leaves, we can see the new season begin as we leave the doldrums of winter behind. As a follower of Jesus, we are in a constant new season. The grace of the cross makes us new and allows us not only to be forgiven, but also to walk a new life! Followers of Jesus have the only real hopeful life, and it is all because of the salvation we have in Christ. Newness brings hope and vitality to life, as Romans 6:4 says we are now raised to "walk in newness of life." Each day is a new day to walk with Him. Leave the doldrums of sin and selfishness behind and live with the new life perspective.
For Today: Be encouraged – you can live the new life!
Tuesday: Let Hope Come In!
1 Corinthians 15:19
Augustine once said "trust the past to the mercy of God, the present to His love, and the future to His providence." So often we can let our past rule our present and therefore, our future as well. The forgiveness of God extended to us through the death, burial and resurrection of Jesus is complete. We don't have to allow the guilt or pain of the past cloud our days. We can choose to let hope come in to change our attitude and how we live. Then, in turn, we can be agents of hope to others. Not only does the hope of Christ give us purpose (and, therefore, hope each day) for our lives but also, we have the assured hope of eternity in view. Our lives must be lived with purpose that is bathed in hope.
For Today: Let go of the past and be an agent of hope!
Wednesday: Trust the Stronghold!
Nahum 1:7
In 2000, the US Government began to allow government-owned lighthouses no longer in use to be sold, or even acquired for free, to citizens of the US. Lighthouses were once the iconic symbol of refuge for those in trouble. Now, with modern technology of GPS and satellite guidance, there is no need for these once-critical guides for those in trouble and they are being turned into homes, restaurants and museums. When we are in trouble, we look for refuge, for our lighthouse, if you will. Followers of Jesus have the ultimate refuge and more in the very God of the universe. Nahum reminded the people of Judah that God is a refuge and a stronghold to run to when we face trouble. Much like the lighthouse that can only help mariners if they heed the warning and guidance of the light in the midst of the storm, God is a stronghold to those who heed their lives in trust in Him. Lighthouses may be a bygone era, but the stronghold found in the almighty is eternal.
For Today: Memorize Nahum 1:7.
Thursday: Don't Leave Home Without Him!
Joshua 1:9
The marketing world has two acronyms they utilize and measure when it comes to predicting brand purchase probability. They are: PWOM (positive word of mouth) and NWOM (negative word of mouth). Several prospective, and quite scientific, studies have been conducted and published in marketing research journals on this topic. These studies have generally found that PWOM is by far a more powerful tool to sway people's purchasing habits over NWOM. Basically, people want to hear what is good about a brand rather than what is bad about the competitor.  In order for believers to speak truth and hope into the lives of those around us, we must practice PWOM. The speech of followers of Jesus should be "gracious and attractive" (Colossians 4:6). People want to know what is good about following Jesus. Rather than focusing on NWOM regarding what is wrong in people's lives, tell people the difference that being a child of God has made in your life. Spread PWOM about Jesus!
For Today: How can you use PWOM about what Christ has done for you?
Friday: We are All in This Together!
1 Corinthians 12:27
The US military believes in uniformity. Everyone wears the same clothes, everyone is issued the same equipment, everyone makes their bed the same way, everyone wears the same boots, everyone salutes the same way, everyone gets up at the same time, everyone (literally) marches to the same drummer. The idea of uniformity and teamwork is a huge aspect of military life. This conveys the idea of common purpose. The body of Christ is a common purpose organization as well. We are all part of the body and must carry out our part to accomplish our mission. The purpose of being like Christ and making Him known is at the core of what we do and who we are as the church, collectively and individually. Each believer has a role and it must be carried out with unity and harmony with His purpose in mind.
For Today: What role are you playing in the body?