Study Begins July 6
Looking for a great study and fellowship? Man Up! is pleased to introduce you to our 33rd book, The Red Sea Rules, by Robert J. Morgan. Pick out a venue and join us! Good book, good coffee and good community!
About the Book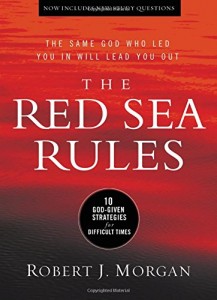 Just as Moses and the Israelites found themselves caught between "The devil and the deep Red Sea", so we are sometimes overwhelmed by life's problems. The Red Sea Rules reveals that even in the midst of seemingly impossible situations God promises to make a way for us.
Weekly Meeting Times
Various days and locations are available. Check the Men's Ministry page for details.
Book Availability
Books are currently available from the Oakhurst Campus for $10 per book. You may call Christine at 304-346-0431 or send an email to request a book to be left at the receptionist desk (Oakhurst Campus). You may also contact your book leader to purchase your book.