Study Begins September 21
Looking for a great study and fellowship? We are pleased to introduce you to our next book, The Life You've Always Wanted, by best-selling author, John Ortberg. bestselling author John Ortberg. This book attempts to provide Christian growth for "ordinary" Christians who aren't in monasteries or seminaries. Intended for the believer who lives in a world of freeways and corporate ladders, this The Life You've Always Wanted  is an invitation to live Christ's way.
Come join us at one of our nine locations. The relationships formed in these ManUp! groups are priceless! Good book, good coffee and good community!
About the Book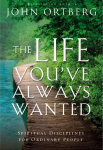 You can live a deeper, more spiritual life right where you are.
The heart of Christianity is transformation—a relationship with God that impacts not just our spiritual lives but every aspect of our daily lives. John Ortberg calls readers back to the dynamic heartbeat of Christianity—God's power to bring change and growth—and reveals how and why transformation takes place.
The Life You've Always Wanted offers modern perspectives on the ancient path of the spiritual disciplines. But it is more than just a book about things to do to be a good Christian. It's a road map toward true transformation that starts not with the individual but with the person at the journey's end—Jesus Christ.
As with a marathon runner, the secret to finishing a race lies not in trying harder, but in training consistently—training with the spiritual disciplines. The disciplines are neither taskmasters nor ends in themselves. Rather they are exercises that build strength and endurance for the road of growth. The fruit of the Spirit—joy, peace, kindness, etc.—are the signposts along the way.
Paved with humor and sparkling anecdotes, The Life You've Always Wanted is an encouraging and challenging approach to a Christian life that's worth living—a life on the edge that fills an ordinary world with new meaning, hope, change, and joy.
Weekly Meeting Times
Various days and locations are available. Check the Men's Ministry page for details.
Book Availability
Books are currently available from the Oakhurst Campus. You may call Christine at 304-346-0431 or send an email to request a book to be left at the receptionist desk (Oakhurst Campus). You may also contact your book leader to purchase your book.