NEW! • Tuesdays • 9 – 10:30 AM • Sept 22-Nov 3
Southridge Campus • Raccoon Room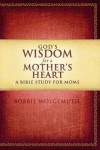 This new Bible study is for moms with children in the infant through toddler stages. No need to arrange for a sitter as the study meets in the nursery! Jane Schultz will be leading the book study, God's Wisdom for a Mother's Heart by Robbie Wolgemuth. The book explores the many issues facing moms and encourages them to strengthen their relationship with God which, in turn, strengthens their influence in the home. Email Jane for more information.