Friday, November 13 • 7-9 PM • Southridge Campus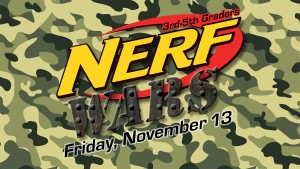 All children participating will wear protective eye wear (goggles) distributed by the church. Children may bring their own Nerf guns but please label each gun. Nerf bullets will be supplied by the church. Snacks will be also be a part of our evening. Cost is $5.
Registration
Complete the permission slip below.
[gview file="https://www.biblecenterchurch.com/wp-content/uploads/2015/10/15-NERF-WARS.pdf"]