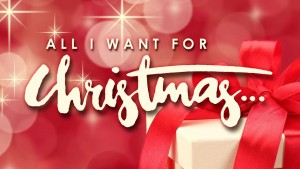 Ahhh, Christmas! The time of year when we wish peace on earth and good will toward men and women. As the famous song says, "It's the most wonderful time of year." Or is it?
It's the time for radio stations to play Christmas music 24/7, for decorations to go up around the house, neighborhoods, and stores. It's the time of year when we rush from office parties to church programs and family get-togethers. We fight in the parking lot over a parking space to get those perfect gifts.
What if what we really want at Christmas isn't found under a tree or in a store? What if it is only found in Jesus?
Hope, Peace, and Joy. This is what God wants for our lives year-round. It also happens to be what everyone really wants for Christmas (whether they know it or not). Join us this Christmas season as we discover these great gifts.
All I Want for Christmas…
Is HOPE • Pastor Troy Thornton (December 6)
Is PEACE • Pastor Caleb Korth (December 13)
Is JOY • Pastor Matt Garrison (December 20)