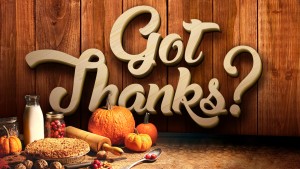 Is there any more basic Christian virtue than gratitude? God tells us to give thanks. An ungrateful person is an unpleasant individual for whom life is bad… and hard. Gratitude, on the other hand, is medicine to the soul.
For three Sundays in November, our pastors will lead us in a scriptural exploration of thankfulness:
Nov. 15 • When Small is All (Mark 12: 41-43) • Pastor Lee Walker
The simple, but poignant story of the widow offering her small, but oh-so-big, gift to the Lord is a lesson for the ages. It teaches us not only about giving, but also about thankfulness, and ultimately, about life.
Nov. 22 • Gratitude in the Midst of Ingratitude (Luke 17:11-19) • Pastor Bill Tanzey
When we miss the opportunity to thank God, we neglect our duty and are denied a delight.
Nov. 29 • A Model of Thanksgiving (1 Chronicles 16) • Pastor Chad Cowan
Have you ever wondered how to give thanks to God? In 1 Chronicles 16, we share a ringside seat into one of the most incredible worship services of Scripture and gain insight on how to give God thanks.