Thursday, December 24 • 4:30 PM & 6:30 PM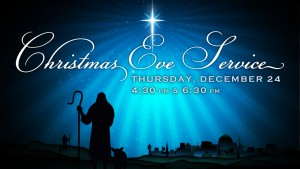 Lots to do on Christmas Eve!  How does your family find ways to focus on what is important?  Here is one.
Join us at Bible Center Church for a beautiful Christmas Eve service.  It will contain familiar music, a children's Christmas story, some thoughts from the Bible, communion, and the one hour service will end with us all singing Silent Night while we each hold high a candle representing Jesus who is the light of the world.
There will be two identical services:  one at 4:30 and another at 6:30.  The 4:30 service will offer child care for those 5 years old and under.
The angel announced Jesus birth with these wonderful words from God, "Peace on earth, goodwill toward men."  We'd love to have you join us in the celebration of this, the greatest gift of all.  You and your family will be blessed and God will be pleased to see you there.