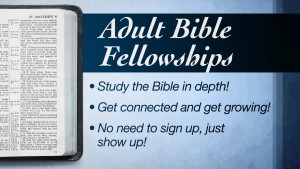 Adult Bible Fellowships are a great means for you to get more involved.  These medium size groups focus on the Word, fellowship and ministering to one another. ABFs are communities of people within the wider body that are uniquely designed for people to experience the love of Christ.
The following ABFs meet each Sunday morning at Bible Center Church:
Sundays @ 9:00 AM
Family ABF • Rm 3105/06 • Pastor Chad Cowan
The Bible teaching in this group emphasizes practical application for family life.
Victory ABF • Rm 3103 • Nick Munoz
If you are looking for excellent Bible teaching in a warm and friendly atmosphere, this group is for you.
Sundays @ 10:45 AM
Horizons • Rm 3101/02 • Pastor Bill Tanzey
Bill is a veteran Bible Teacher, and you will enjoy being a part of this Bible Fellowship group for adults of all life stages.
Converge • Rm 2104 • Blake Stevens, Mark Banyai
All married couples are invited to join us as we Converge!
Life Journey • Rm 3105/06 • Mike DeTemple, Josh Hanks, Mitri Ghareeb, Troy McClung, Craig O'Dell, Matt Walker, Paul Legg
Designed for couples in the marriage journey, the focus of the class is intensive study and application of scripture, and fellowship activities.
Sundays @ 6 PM
The Pursuers • Rm 3105/06 • Darwin Neddo, Joe Martin