Begins Sunday, March 6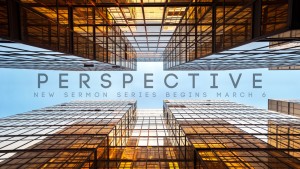 The many portraits of Winston Churchill give us various aspects of his life and character. Some show his joyful moments before World War II, while others were completed during or after the war. They are all pictures of the same man, but each reveals a different perspective.
This is also true of Jesus, as described in the Gospels. Matthew, Mark, Luke and John give different perspectives on Jesus and His resurrection. Just as all Pandora channels and radio stations have unique characteristics, the Gospel writers highlight unique aspects of the resurrection story to encourage us in our own journey.
We hope you'll join us each Sunday morning through March to get a new Resurrection Perspective.
The Resurrection gives us…
A New Perspective on Fear (Mt. 28:1-10) • March 6
A New Perspective on Suffering (Mk. 16:1-8) • March 13
A New Perspective on Love (Lk. 24:1-35) • March 20
A New Perspective on Peace (Jn. 20:1-31) • March 27