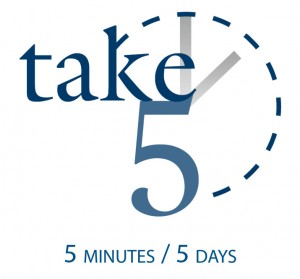 Bill Tanzey • Associate Pastor of Community Ministries
The Big Five: Five Reasons To Be Thankful To God
Monday: He Created All Things
Genesis 1:1
The first four words of the Bible establish the foundation of all that is true: In the beginning God.
Before those words, nothing existed but Him. The divine record shows that our great God authoritatively and sovereignly brought all that is into existence. If we were to start thanking Him, surely, focusing on that great truth would be a fitting place to start. Without His creative actions, we would not be. (It might be good to read that sentence again.)
Even more amazing is that, of all His creation, we are His image-bearers! There is a special name for those who deny this fact of God: Fool (Ps. 14:1 and 53:1).
For Today: Thank Him for creating you. That's a good place to start.
Tuesday: He Is the Giver Of All Good Gifts
James 1:17
God is unchanging in His character. Since He is the essence of good, He shares that good with His own. You could summarize James 1:17 thusly: "Everything in my life that is good comes from Him." That includes family, faith, finances, joy and peace. When you taste good, remember He is the Author of goodness. In stark contrast to the morbid and dark things of this world, He gives us gifts that are in essence totally good.
Note how James describes this giving God: "The Father of lights." Our God who created the starry universe, including our own sun, shines light on our lives through good gifts. We can rest in the unchangeable Lord of light!
For Today: Make a list of the good gifts in your life, and thank Him in prayer.
Wednesday: He Sent Jesus To Save Us
John 3:16, Romans 5:8
When all is said and done, there is nothing more important than what today's heading says: God Himself, in the second Person of the Trinity, descended from His throne in heaven, zipped on human skin, and was crucified as our Substitute for the punishment of our sins. Beginning today, we could thank Him for eternity and never thank Him enough for that great fact!
When Abraham brought his son to Mount Moriah to be sacrificed, there was a ram provided for the son's place. There was no ram for God when His Son was sacrificed at Mount Moriah. His Son was nailed to a cross, underwent the torment of a slow crucifixion, and died for our sins. When you think about it, what ever could we be more thankful for?
For Today: Read Jn. 3:16 and Rom. 5:8 aloud and thank God for what He did for you.
Thursday: He Answers Our Prayers
Hebrews 4:15-16
Imagine! We can actually draw near to the Lord of Hosts and speak directly to Him! This great privilege is extended to those whose sins have been forgiven through the sacrifice and intercession of our High Priest – Yeshua – Jesus the Messiah. This is heavy theology with heavy application for us. We can cross the threshold into His presence with confidence. That Greek word translates as boldness or with courage, especially when one enters the presence of high rank.
You might be having a challenging week, but on this wintry Thursday, please be reminded of the gift of entering God's presence with prayers and thanksgiving. That makes all the difference. That great truth can keep the world from dragging us down.
For Today: Find 3 moments when you can offer thanks to God for answered prayer.
Friday: He Wants Us To Be With Him Forever
John 14:1-3; Revelation 22:17
It has been said that the single most important exercise we can perform each day is to preach the gospel to ourselves. Within the words of John 14 is a deeply expressed reminder to His disciples of the ultimate reality of the gospel: We will abide with Him in Heaven! On the night before the cross, Jesus went back to what is important: "Believe."
The disciples were troubled by His imminent departure, but He reminded them of the essence of His gospel: Having a personal, relational trust in Him and His sacrifice for our sins. That, my friend, is the ultimate reality.
In Rev. 22:17 we are reminded of that sweet water of life that is freely given by God's grace. I will look forward to seeing you in heaven where we can live forever with Him. If you aren't sure if you understand all this, call me at the church. Shalom.
For Today: Remember: You are eternal!