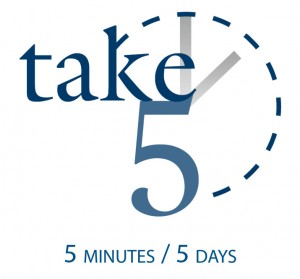 Lee Walker • Interim Executive Pastor
There's Nothing Like a Church!
Monday: In the Beginning
Acts 2:42-47
The idea of being able to "start fresh" is often an inviting thought. Who wouldn't like to build their own house instead of living in someone else's idea of a good plan? In the last six verses of Acts 2, we see the first church starting from scratch. History is being made. This week, in our Take 5, we will observe and learn!
In the New Living Translation, verse 43 starts out, "A deep sense of awe came over them all…" Being part of a vibrant, God-focused, Bible-centered church is, indeed, an awesome experience. Active participation in a local church is an important part of our Christian life. Like that first church, let's give attention to the basics of church life: learning, worshipping, fellowshipping, sharing, serving, praying, and representing.
For Today: Embrace the blessing of being a part of a Bible-centered church.
Tuesday: Let's Get It Right
Acts 2:42
Devoted is a pretty intense word. More than dedicated… more than committed… we get it when the Bible says the new believers "devoted themselves to the apostles' teaching." They couldn't get enough. They wanted to learn all they could about Jesus, about Scripture, about the Church.
We see it happen today. People receive Christ, become connected to the church, and then can't get enough. They attend every service, go to ABF's, join a small group, buy the recommended books, volunteer for everything. It's great to see someone devoted to learning about God. How about you? Is your appetite whetted? Are you growing, studying, learning? Lots of opportunity at Bible Center. Don't miss out!
For Today: Plan to make Bible study a part of your life.
Wednesday: What's Mine Is Yours
Acts 2:44-45
If we allow it, sometimes the Bible will push us from our comfort zone. It's a good thing. If one reads Acts 2:44-45 with a political agenda in mind, one might get it wrong and miss the point. It's not about socialism. Rather, it's about generosity. Folks in the first church were so caught up in being together–being a part of something God was doing–that extreme, voluntary sharing was the norm.
If the men and women of the first church teach us anything, it is that the concept of sharing goes far beyond merely dropping a check in the offering plate. The people worshipping with us are truly our brothers and sisters. We love them and want to care for them as we would a family. The response from our congregation in December was remarkable, as the offerings to the general fund set a record. Add to that, all of the gifts continuing to come in for Fast Forward, special missions projects, and benevolence; and one can see the hand of God using us to do good things. May generosity always be a mark of our church.
For Today: Pray, "God help me share extremely."
Thursday: Everybody's Got To Eat
Acts 2:46
Here's a Bible verse that puts a smile on your face. "…they received their food with glad and generous hearts." Eating was a big part of the fellowship and worship of that first church. It's mentioned in verses 42 and 46. For sure, part of the reference is to the Lord's supper–communion. These people were not that far removed from the time when Jesus said, "Do this in remembrance of Me." So they did… probably everyday.
But also, they just ate together–families gathering at various houses. Overeating and unhealthy eating are problems in America, but fellowshipping while eating is a great thing. It truly seems to be God's way. So, enjoy a snack with someone after church next Sunday. Or better yet, invite a couple families to your house for a meal. Share God's blessing around God's table.
For Today: Invite someone to share some food with you.
Friday: Who and How Do You Represent
Acts 2:47
Christians in the early church represented the Lord well when it came to their effect on Jerusalem. They exhibited a come-strong-or-don't-come at-all type ethos. Read verse 47 again; it kind of goes against our normal historical perception.
Even though the church has been reviled in much of the world throughout most of history, local churches can, indeed, have great influence and acceptance in a particular city or region. Churches can be respected, admired, attractive places with testimonies that bring glory and attention to God. Of course, it is the people who make this happen. May we be a church filled with people who represent the Lord in good ways.
For Today: Represent Jesus with a come-strong-or-don't-come-at-all type dynamic.