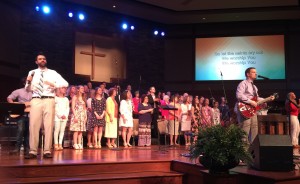 Today our Staff Ministry Team discussed the question, "Why do we love Easter services so much?" Here's what we said:
Easter services…
Remind us what we're all about.
To be Christian is to believe in the resurrection of Jesus, which was the most important day in human history. It's at the core of God's good news and is a key doctrine of the Christian faith. The resurrection proves that Jesus is the Son of God and is powerful enough to forgive our sins.
Remind us that death doesn't have the final word.
Many within our church family have buried loved ones in recent months. It was moving to see so many of them gathering to worship at yesterday's Easter services. Their presence and whole-hearted worship remind us of Paul's words, "Death is swallowed up in victory. O death, where is your victory? O death, where is your sting?" (1 Corinthians 15:54-55).
Allow us to see old friends.
As suggested by our Student Ministries Pastor, we want our default response to be, "Welcome back!" not, "Where have you been?" Easter is a great time for old friends to visit again and check out all that God is now doing at Bible Center. We also enjoy seeing out-of-town family and friends who have chosen to enjoy Charleston on their holiday weekend.
Provide an opportunity for family and friends to get great pictures.
Yesterday, our campus was abuzz with families and friends huddling around the fireplace or near the woods to get Easter pictures. I was moved to think of where these pictures will end up. Memorable pictures like these often reappear on Facebook walls, living room walls, at weddings, and at funerals.
Remind us how awesome Heaven will be!
Joining our combined praise band and choir in worship was a moving experience. The stage was covered with men and woman of all ages, including guitarists and singers in their early teens, and one of Bible Center's original members (73 years ago!) now in her upper 80's.
Renew families.
Our Pastor of Counseling reminded us of how good it is when estranged family members offer an olive branch and say, "Let's go to church together on Easter." This is a very good thing, and often the first step to healing.
Revitalize our servant teams.
The crowds of Easter provide more volunteers more opportunities to serve. For instance, after our 7AM service concluded in the Gathering Space (front lobby near the fireplace), our teams had less than 30 minutes to pick up 250 chairs, remove the cables taped to the floor, and reconfigure the furniture to welcome guests for our 9AM service. After the last "Amen," they set a new, 18-minute turnaround time.
This Easter reminded us all that the best years of Bible Center Church are yet to come!
For the city,
–Pastor Matt Friend
—
Posted on Encouragement: For the City. For the Church.