May 6 at 7 PM — May 7 at 3 PM
Glade Springs Resort – Daniels, WV
Rest that Refreshes: Learning the Unforced Rhythms of Grace
Are you tired? Worn out? Burned out on religion? Come to me. Get away with me and you'll recover your life. I'll show you how to take a real rest. Walk with me and work with me—watch how I do it. Learn the unforced rhythms of grace. I won't lay anything heavy or ill-fitting on you. Keep company with me and you'll learn to live freely and lightly.
-Matthew 11:28-30 (MSG)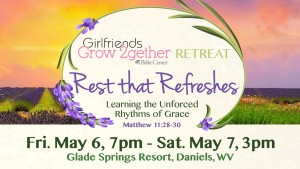 At times we all feel like there are not enough hours in the day and exhaustion weighs us down. Yet we read that God wants rest and peace for His daughters. How can we find relaxation in God's presence? How can we have beautiful Sabbath moments in our week that leave us refreshed? Come learn with us and rest!
Registration Includes:
Guest room accommodations
Friday night reception
Saturday buffet breakfast and lunch
All necessary materials and the promise of fun and laughter!
The resort has other amenities such as golf, tennis, and spa which are not included in registration but can be booked prior to or following the retreat program hours at gladesprings.com. (Gluten fee meals available upon request.)
Rate is determined by room occupancy
4 Ladies sharing a room – $100 each
3 Ladies sharing a room – $115 each
2 Ladies sharing a room – $130 each
1 Lady – Single occupancy – $190
Registration Fees are transferable but not refundable and must be received by April 6th. Groups sharing a room must register together. Registration is not complete until payment is received.
Sign up in the Gathering Space between Sunday services
Download Retreat Flyer
[gview file="https://www.biblecenterchurch.com/wp-content/uploads/2016/03/16-Womens-retreat.pdf"]