Pastor's Letter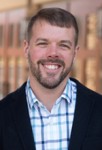 Dear Friends,
Good morning, and welcome to Bible Center Church! Whether you are a local guest, a traveling visitor, or a regular attender, we've prayed all week for these Easter services to encourage and strengthen your faith. Please make yourself at home.
When you hear the word "peace," what comes to mind? Many of us dream about a world without poverty, ISIS, racism, or injustice. Perhaps Picasso's dove and olive branch come to mind. Maybe you are thinking about your favorite deer camp on a crisp fall morning; your favorite trout stream miles from cell phone service; or a quiet evening in your house without children crying, arguing, or playing their music loud enough to rival a jet engine.
For the early church, Easter was the ultimate symbol of peace. It promised peace with God and peace in their everyday lives.
As we read John 20 and hear Jesus repeatedly say to His first disciples, "Peace be with you," my prayer is that you will hear Jesus say those same words spoken directly to you.
May God give us a new perspective on peace as we remember Jesus' resurrection!
For our city,
Matt Friend • Senior Pastor
Announcements
Got Questions?
If you're new, have questions, or need help with registration, giving, or the church website, hosts and hostesses are available. Look for them standing under the [?]  sign at the Info Desk. They'll be happy to assist you!
Keep Up With the Latest Church News
If you would like to get weekly updates, then go to our website, BibleCenterChurch.com, and enter your email address at the bottom of the page.
You're Invited to Follow Along While God's Word Is Being Read
If you would like a Bible in hand to follow readings during the sermon, we have Bibles located at the back of the Worship Center on both sides. Alternatively, the free app, "YouVersion Bible" can be downloaded to your mobile device now for easy access to a Bible anytime. Please note: Bible Center utilizes the English Standard Version (ESV). Choose this to follow word-for-word.
Interested in Becoming a Follower of Christ?
Today • 4:00-8:00 PM • If you're interested in knowing more about what it means to follow Jesus, or are unsure about what it means to be "saved," Pastor Matt will be in the Living Room tonight for anyone who wants to know more! Drop in anytime for a one-on-one discussion on anything you may have questions about!
Bible Center in 10
Sunday, April 3 • After both services, Pastor Friend will take 10 minutes to share our church vision and mission, as well as paths for people to get involved. If you're new and interested in learning about Bible Center, please meet next week at the front left section of the Worship Center.
Missions Committee Meeting
Sunday, April 3 • 1:30 PM • SR Campus, Rm. 2104
Men's Fellowship Breakfast
Tuesday, April 5 • 7:30 AM • Shoney's  • Dutch treat • All men of the church are invited!
Scooter Rally (3rd-5th Grade)
Saturday, April 16 • 1:00-3:00 PM • SR Campus Parking Lot • $5/child •All 3rd-5th graders are invited to this activity, which includes prizes and food. Complete a registration form at the North Check-in station, or go online at BibleCenterChurch.com/register. Motorized scooters are not allowed, and there will be a scooter to share should a child not have one.
AWANA Golf Tournament
Friday, April 29 • Sugarwood Golf Club • Calling all golfers: It's time to get into the swing of things again! Register your team for the Annual AWANA Golf Tournament. To register online, go to: regonline.com/WestVirginiaAwanaGolfScramble. All teams will consist of four players at $300 per team. Green fees, refreshments, cook-out lunch and prizes are included in the registration fee.
Decision America/National Day of Prayer
Thursday, May 5 • 12:00 PM • The steps of the WV Capitol • Coinciding with the National Day of Prayer, Bible Center attenders are encouraged to attend the non-partisan 2016 Decision America prayer rally with Franklin Graham. The tour's goal is to inspire Christians to "live out their faith at home, in public and at the ballot box." For more information, please go to DecisionAmericaTour.com.
Go Team to Angola
Thursday, May 12-Sunday, May 15 • Want to make a positive impact in the lives of at-risk children? Join Bible Center with Marlin & Donna Fuller to help facilitate the "Returning Hearts Celebration." The Fullers will be taking 55 people on a first-come, first-serve basis. The cost is $385/person plus your own transportation. Please check the Communication Tab if you are interested or would like to know more about this incredible outreach project.
Nominations
The congregation is invited to recommend names for the positions of Elders and Deacons for the new term beginning July 1, 2016. The nominating committee, chaired by Pastor Friend, will be meeting to consider nominations. Appointments will be made by the Elders in June. You tmay submit suggestions by using the "Contact Us" form on the website, BibleCenterChurch.com/contact.
Ladies, Save the Date for "Girlfriends Get 2gether"
Craft & Coffee Nite • Friday, April 15 • 7:00 PM • RIM, Oakhurst Campus • $5 at the door • More details next week.