Begins Sunday, April 3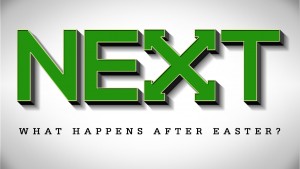 What happens next? That's what we ask when our favorite TV series abruptly ends. We become curious about what's next after reading a great book that hints at a sequel.  A man or woman works towards retirement for decades, but after the retirement party they sometimes ponder, "What's next?"
The same is true after other milestones: graduating from high school or college, landing the dream job, falling in love, falling out of love, conquering your first Xbox game, experiencing an unexpected loss, getting your driver's license, turning 21, turning 30, getting married, bringing your first child home from the hospital, or buying your first car.
After a memorable Sunday like Easter, it's good for us to ask, "What happened next? What happened after Jesus arose from the grave?" Thankfully, Acts chapter 1 answers that question in surprising detail. Throughout April we'll be encouraged to know that the events after the first Easter morning still impact us today, especially in the weeks following our own Easter celebration.
We hope you'll join us each Sunday morning through April to find out what happens after Easter.
We Keep the Party Going (Acts 1:1-3) • April 3
We Remember the Source of our Power (Acts 1:4-5) • April 10
We Look Up and Look Out (Acts 1:6-11) • April 17
We Plug More People into Ministry (Acts 1:12-26) • April 24