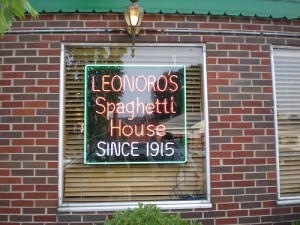 Today 101-year-old spaghetti made me even more glad to live in Charleston.
Actually, the spaghetti was quite fresh, but the restaurant has been in Charleston for 101 years and is going strong. Leonoro's Spaghetti House opened in our city in 1915 and has been family owned and operated ever since. 1915 . . . that was the year the one millionth Ford automobile rolled off the assembly line; Wimbledon was cancelled due to World War I; and Cornell University won the NCAA Football Championship with a record of 9-0.
While waiting for a friend to meet for lunch, I sat quietly at a green booth in the back corner. The sound of Italian strings filled the room, along with the mouthwatering smell of spaghetti sauce and meatballs wafting in from the kitchen.
Hanging on the wall were groups of generations of Leonoro family pictures, mixed with Charleston Gazette newspaper clippings through the years. You'll enjoy this Gazette articles, along with a kitchen video interview. The exposé reminded me that Mussolini and historical events in Sezza, Italy over a century ago impacted today's lunch.
Out the window to my left were the sounds of Washington Street–people walking up and down the sidewalk on a sunny afternoon and cars making their way to and from the East End, perhaps doing business at the capitol complex. The lavender flowers in the window were picturesque. Even though I had no idea what kind they were, I was glad they numbered into the thousands. The bright petals were as welcoming as the Leonoro's staff.
Kelly-the-waitress greeted us. Everyone in the dining room seemed to know her and call her by name, including a table of professionals to my right who were laughing and telling stories on their lunch break.
Who would imagine that a restaurant like Leonoro's makes 15 gallons of sauce and 250-300 meatballs per day! There's no need to go looking for the spaghetti or meatball recipe hanging on the kitchen wall. It exists only in the minds of the Leonoro family: Al, Joe, or their uncles Joe and Frank. After tasting the amazing marinara sauce, I'm convinced it's better to say the recipe resides in their hearts and their minds.
As a younger citizen of Charleston, I was encouraged to learn that the spaghetti house may eventually fall to Joe's son Michael and Al's daughter Alicia. The Gazette quotes Uncle Umberto who used to say, "They're the new generation—but they won't be the last."
That's the way I feel about my young leader-friends around Charleston, and about our city's future success.
For our city,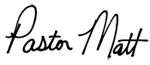 —
Posted on Encouragement: For the City. For the Church.