Twenty years ago a kid preacher was preaching one of his first sermons at a Charleston church when a local celebrity walked in the doors…
The 1995 superstar wasn't Fu Manchu, Mel Gibson or Al Pacino, but someone much more important, especially to our city and state. Our assistant pastor told me that evening before I anxiously ascended the platform to preach,
Rex Whiteman has joined us tonight to hear you speak. Don't get nervous, but he's sitting on the left-hand side and says he'll be praying for you.
It's been 20 years, but Rex Whiteman (with his lovely wife Kaye) is still one of my heroes. The Union Mission team has blessed our city and state enough to fill multiple lifetimes.
A couple weeks ago he invited me to his office for lunch. It had been at least five years since my last visit, so the lunch was met with great anticipation.
(After turning off Maccorkle Avenue at McDonalds, the tiny tunnel barely swallowed my F-150. Next time I'll turn at the hospital and 31st Street and come around by Nautilus.)
Upon arrival, several of his staff (who are also members of our church) greeted me with grace. Rex walked me down the kitchen where the chef had prepared our plates of delicious chicken, flavorful green beans and several desserts from which to choose.
Shortly after we started eating, I became enthralled with parts of Rex's store that were new to me…
Rex was born in Clarksburg, WV and grew up in Pruntytown. (You know if anyone ever threatened to send you to the Pruntytown Correctional Center when you were a kid!) His father was a long-time Gideon, but resigned to pastor a church in Pruntytown.
I asked Rex, "When were you first exposed to the type of ministry you do everyday at Union Mission?" He replied, "Dad was always getting called by the town drunk. That's part what country preachers did. He helped them anyway he could, and taught us to do the same."
Rex's West Virginia ministry started 21 years prior in Atlantic City, NJ where he started serving at a rescue mission at age 23. After two decades of ministry there, most in which he served as the Executive Director, he received word that our own Union Mission Ministries was looking for a new director.
Rex said, "The retiring director contacted me and asked 'Would you consider another ministry here in WV?' Kaye and I prayed about it for a total of 18 months, so it wasn't a quick decision." Thankfully, God brought them to our city in 1989.
Over lunch, Rex recalled the initial burdens of his first years at Union Mission.
The mission needed fresh vision. I told the staff, 'I'm gonna emphasize prayer,' and prayer still runs the mission. Every department has prayer. We pray between shift changes. We start each day in prayer. Prayer has been the key to our success.
Now, almost 28 years later, Rex is still Union Missions 4th Director in over 104 years. He has built on Founder Pat Withrow's original mantra of "soup, soap, salvation." God has used Charleston's own Union Mission to start over 40 other missions around the country, including Chattanooga, Jacksonville and Nashville.
Curious of how he has faithfully served for nearly 30 years in one location, I asked for some advice. He responded,
Get people around you you can call and trust, and have a devotional life. Talk to God and let God talk to you.
Please join me in prayer for Rex and the Union Mission as they help hurting people in Jesus' name. With other good ministries, they serve on the front lines of gospel ministry in our region.
For our city,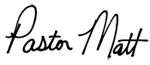 @PastorMattBCC
—
Posted on Encouragement: For the City. For the Church.