[su_vimeo url="https://vimeo.com/172430427″ width="500″ height="280″ autoplay="yes"]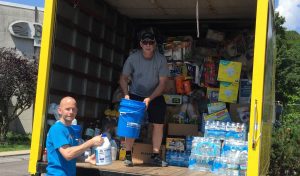 Bible Center Church has been overwhelmed with people contributing to the flood relief effort and volunteering to help.  We have already filled four trucks with products and watched with gratitude as many of our members have been boots-on-the-ground over this past weekend.
What more can we do?  More of the same:
Keep filling the trucks. Bible Center Church and Union Mission have trucks parked continuously at Bible Center School (across from Ashton Place on Corridor G) and at the church's Southridge campus (just off Parkway Road near Cabela's).  The most pressing needs right now are:
Cleaning supplies:  Gloves; buckets; brooms; mops; broom-handled squeegees; shovels; wheelbarrows; bleach; all-purpose cleaners and disinfectants; etc.
Personal products: Toothbrush and toothpaste; comb; hairbrush; deodorant; feminine products; etc.
Paper products: Paper towels; toilet paper; diapers; baby wipes; etc.
Water and non-perishable, ready-to-eat food products
2. Keep donating money at wefeedpeople.com.
3. Volunteer for on-the-ground efforts by contacting Bev@wefeedpeople.com.
To stay informed, visit our Flood Relief page.