Wednesday, July 20 • 7:05 PM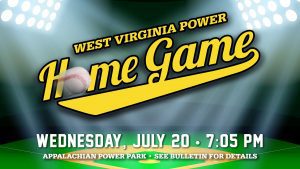 Enjoy a night out with church friends at a WV Power Game at the Power Park! Bible Center has arranged for a Wednesday night out and we'd like you and any guest to come! So, let's all be seated together* for a great night of baseball! You can pay at the gate.
*Our pastors will be seated in Section 101, which is just behind left field. If you would like to sit in the same section or in the general admissions section right next to it, tell the cashier at the window.