Pastor's Letter
Dear Friends,
Good morning, and welcome to Bible Center! On behalf of our pastors and staff, it's our joy to have you here today.
This week Pastor Bill and I were blessed by a friend's invitation to attend the YMCA's Spirit of the Valley luncheon. The event honored Charleston's very own City Council member, Mary Jean Davis. We were invigorated by the YMCA's new initiative: "Don't just join a gym. Join a community."
In a similar way, that's our vision for you at Bible Center. We want you to jump into this community for regular worship. We invite you to belong in one of our smaller groups or fellowships. We'd love to help you find a life-giving service team–a place where you can live up to all God has made you to be.
In the next few weeks, you'll see more about how you can participate in one of our many Community Groups, which will restart on September 18th. However, in the meantime, feel free to use this bulletin as a travel guide to locate a place of deeper connection.
Oh, and one more thing. Please know that like all families, we're just a group of ordinary people in need of healing, grace, forgiveness, and growth. I hope you'll join us on this journey in even greater ways!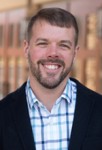 Matt Friend • Senior Pastor
@PastorMattBCC
Next Sunday's Message:
""Pardon and Purity Play an Important Part in Prayer"
Matthew 6:12-13
Announcements
Got Questions?
If you're new or have questions, hosts and hostesses are available. Look for them in the black shirts standing under the (?) sign at the Info Desk. They'll be happy to assist you!
Church Mini-Bus Drivers Needed
Mini-bus drivers are needed on Sunday mornings. Interested? Man or woman, please contact Christy Corbin. A CDL is not required.
Do You Know a College-Age Student?
The Care Ministry would love to send cards to students from Bible Center Church! If you are–or if you know of–someone attending college or other post-secondary institution, fill out the Communication Tab or email Wanda Casto (wandawv@frontier.com). Include the student's name, school and address, major, year in school, email, mobile number, and birthday.
Food Items Needed For Crossroads
Sign up on BC Central or contact Sheri Skidmore to donate items for the UM Crossroads Dinner & Gospel Service. The dinner will be prepared on Thursday, August 25 solely from the food collected here. Items must be received by August 24. Volunteers are also needed to prepare and to serve.
Night of Activity (3rd-5th Grades)
Friday, August 26 • 6:30-9:00 PM • $15/child • Invite a friend and join us for a night of laser tag, belly bumpers, and sponge dodgeball! Food will also be served. Flyers are available at North & South Check-In Stations or online.
Deacons/Finance Committee Orientation & Combined Meeting
Sunday, August 28 • 4:00-5:30PM • Room 1123 • New Deacons and Finance Committee members are asked to attend the orientation at 3 PM also.
Aftercare Help Needed
Bible Center School is looking for individuals 16 years old and over to work in the aftercare program. He/She will work alongside another more experienced employee on weekdays from 3:15-5:30 PM. Contact Josh Bacchus at (304) 941-1704 to apply.
Red Cross Blood Drive
Monday, August 29 • 9 AM-2 PM • Bible Center School, RIM • To donate blood, make an appointment at RedCrossBlood.org and enter BCC in the search field. Donors may opt-in for a free $5 Amazon gift card and a free Red Cross t-shirt.
Bible Center Church Directory
Don't think you've missed being photographed for the directory… September–and now October–sign ups are under way! Someone will be in the Gathering Space to schedule appointments, or you may fill out a Communication Tab to be contacted by phone. Photo sessions dates are September 6-17 and October 4-15. (No photography on Sundays and Mondays.) If you'd like to register yourself, go to BibleCenterChurch.com/directory.
Water Station Volunteers Needed
Saturday, September 3 • 1403 Kanawha Blvd. • Volunteers are needed to help set up, hand out drinks, and pick up discarded cups at the Charleston Distance Run. Please arrive by 7:00 AM. Duties will conclude 10:30-11:00 AM. Drinks and supplies will be furnished, but volunteers should bring a lawn chair. If you're interested, contact Sheri Skidmore, or check the box on the Communication Tab.
Bible Center in 10
Sunday, September 11 • After both services, Pastor Friend will take 10 minutes to share our church vision and mission, as well as paths for people to get involved. If you're new and interested in learning about Bible Center, please meet us at the front left section of the Worship Center (the pulpit's right side).
Save the Date: Church on the Levee
Sunday, September 25 • 10:30 AM • Haddad Riverfront Park • This will be a combined, single church service. More details to come.
AWANA Volunteers Needed
Volunteers are needed for Wednesday night AWANA! Duties vary and you can serve 1-4 times/month. You'll be blessed by helping the next generation grow in the Lord! If you're interested, check the box on the Communication Tab.
AWANA Club (K-5th Grades)
AWANA has begun, but it's never too late to enroll your child. Check the box on the Communication Tab or contact Pastor Thompson at if you have any questions.
Thank You
Chad and Melissa Cowan would like to thank everyone for all the gifts, meals, cards, and prayers in celebration of their son, Landry Addison!