Study Begins August 15
Looking for a great study and fellowship? We are pleased to introduce you to our next book, Fight: Winning the Battles that Matter Most, by Craig Groeschel.
Come join us at one of our nine locations. The relationships formed in these ManUp! groups are priceless! Good book, good coffee and good community!
About the Book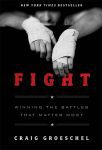 Author and pastor Craig Groeschel helps you uncover who you really are―a man created in the image of God with a warrior's heart―and how to fight the good fight for what's right. You will find the strength to fight the battles you know you need to fight―the ones that determine the state of your heart, the quality of your marriage, and the spiritual health of your family.

Craig will also look at examples from the Bible, including our good buddy Samson.  Yep, the dude with the rippling biceps and hippie hair and a thing for Delilah.  You may be surprised how much we have in common with this guy.  By looking at his life, you'll learn how to defeat the demons that make strong men weak.  You'll become who God made you to be:

A man who knows how to fight for what's right.

And don't you dare show up for this fight unarmed. Learn how to fight with faith, with prayer, and with the Word of God

It's time to fight like a man. For God's Sake, FIGHT.
Weekly Meeting Times
Various days and locations are available. Check the Men's Ministry page for details.
Book Availability
Books are $10 and are currently available from Sheri at the Church (Southridge) Campus. You may call Sheri at 304-346-0431 or send an email to request a book. You may also contact your book leader to purchase your book.