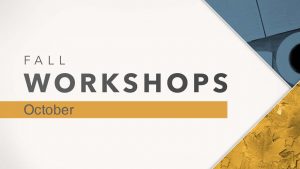 Workshops are Bible Center's short-term evening classes aimed at developing more maturing followers of Jesus Christ by educating followers in various aspects of life. Most are 2-6 weeks long.
These classes are offered on multiple nights of the week to allow more people to attend who may not be able to attend on Wednesday evenings. It will also allow more people to volunteer in children's and youth ministries on Wednesdays by enabling them to participate in a Workshop on another night of the week, if they choose.
– Mondays –
A Call for Kindness
Pastor Lee Walker • Oct 3 – Oct 24 • 6:30-7:30 PM • Room 3103
Is there any more basic yet profound Christian virtue than simply being kind? The Apostle Paul listed kindness as one part of the fruit of the Spirit (Galatians 5:22,23).  We can lament the coarsening of our society and the mean spiritedness that seems to accompany our culture wars, but what can we do about it? Biblical kindness can help. By the end of the class we all develop our own "Kindness Jar."
Parenting is Heart Work
Pastor Richard & Michelle Thompson • Oct 3 – Oct 24 • 6:30-7:30 PM • Room 3105/06
This class will equip parents to touch the hearts of their kids with this biblically-based, practical training. Parents and teachers of children 2-18 years will benefit from this curriculum.
"Follow Me" – A David Platt Study in Discipleship
Jane Schultz • Oct 3 – Nov 14 • 6:45-7:45 PM • Room 2104 (Women's Workshop)
What did Jesus really mean when He told us to follow Him? David Platt answers this question by taking you on a journey to see that the invitation to follow Him is an invitation to a relationship. It's a relationship marked by self-denial, personal intimacy, single-minded ambition, and ultimate joy. In following Him, you will find the purpose you were created for which is to bring glory to God by sharing the gospel and to make disciples who make disciples.
– Tuesdays –
Men are from Mars… Women are from Venus
Mitri Ghareeb • Oct 18 – Nov 8 • 6:45-7:45 PM • Room 3103
Men Are From Mars, Women Are from Venus is the essential tool for couples who want to develop more satisfying relationships with their partners. John Gray provides a practical and proven way for men and women to communicate better by understanding and respecting the differences between them.
– Wednesdays –
Why Your Work Matters to God
Brian Plants • Oct 5 – Nov 16 • 6:45-7:45 PM • Room 3104
Audacious
Carolyn McMillen • Oct 5 – Nov 6 • 6:45-7:45 PM • Room 2104 (Women's Workshop)
This book is a deep dive through Scripture that spotlights a turning point in Beth Moore's experience with the capacity to infuse any life with holy passion and purpose. What does it mean to audaciously love Jesus and live that out?
What is the Church (Part 2)
Pastor Matt Friend • Oct 19 – Nov 16 • 6:45-7:45 PM • Room 3101/02
Join us as we answer the following questions from the Bible…
What is God's plan for growing the church?
Who leads the church?
What responsibility and authority does the congregation have?
Why do we do baptism & communion?
Why do we do what we do on Sunday mornings?
*Attendance to Part 1 would be helpful, but not required.
Leadership 3: How to Lead Your Group Towards Discipleship
Pastor Bill Tanzey • Oct 26 – Nov 16 • 6:45-7:45 • Room 3103 (Attend 1 of the 4 dates available)
Learn how to connect with people as a part of the body of Christ–help nurture their growth. We will learn real, practical ways we can influence those around us for the cause of Christ.
– Thursdays –
Spiritual Growth: The Process
Mike Kaufman • Oct 6 – Nov 17 • 6:45-7:45 PM • Room 2104
Am I maturing as a follower of Jesus? Salvation is an event; spiritual growth is a process. For the next 7 weeks, we will examine the process and learn that through preparation, performance, and perseverance, we can be maturing followers of Jesus.
The Bible & Interpretation 2
Pastor Chad Cowan • Oct 27 – Nov 17 • 6:45-7:45 PM • Room 3104
Has the Bible always been interpreted the same way? And how was it inspired? In this study, we'll take a look at how the Scriptures have been interpreted throughout history, and some of the successes and failure of the church when interpreting God's Word. We'll also see the vital importance of the relationship between inspiration and interpretation.