Beginning this Week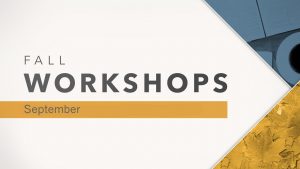 Workshops are Bible Center's short-term evening classes aimed at developing more maturing followers of Jesus Christ by educating followers in various aspects of life.
Workshops begin and end continuously throughout the semester, providing a lot of flexibility with start and stop dates.They are available on various weeknights to allow more people to attend who may not be able to attend on Wednesday evenings. It will also allow more people to volunteer in children's and youth ministries on Wednesdays by enabling them to participate in a Workshop on another night of the week, if they choose. Most workshops are 2-6 weeks long.
[Download Complete Fall Schedule]
Workshops Beginning in September
– Thursday, September 8 –
Hope in Perilous Times: A Study in 2 Peter
Dan Anderson • Sep 8 – Sep 29 • 6:45-7:45 PM • Room 2104
This class will include four messages, based on the three chapters from 2nd Peter, dealing with the uncertainties we face in the world.
– Monday, September 12 –
Coaching for Ushers
Pastor Lee Walker • Sep 12 & Sep 19 • 6:30-7:30 PM • Room 3104 (Attend 1 of the 2 dates available)
All current ushers and "wannabe" ushers (and who wouldn't want to be an usher?) are invited to attend one of these two workshops. We will talk about the duties of ushers and the important role they play in our worship services. Even if you are not yet sure you would like to serve as an usher, please plan to attend the workshop to see if this wonderful avenue of service might be for you. Men and women alike are invited.
– Tuesday, September 20 –
The Gospel of Mark: The Jesus We're Aching For
Lisa Pack • Sep 20 – Nov 1 • 9:30-11 AM • Room 2104
Mark's narrative moves quickly and you sense the action in the story of Jesus' life. It's teaching presented as the gospel – good news powerfully announced in a world of bad news. This gospel emphasizes not only that Jesus is "the Son of God" (1:1; 15:39) but also that this fact demands a response. The Gospel of Mark highlights Jesus' unparalleled spiritual power and authority, leading us to consider for ourselves the question, "Who do you say that I am?" (Mark 8:29)  Video study.
Expecting to See Jesus: A Wake-up Call for God's People (Ann Graham Lotz)
Susan Beeler • Sep 20 – Nov 15 • 6:45-8:30 PM • Room 2104 (Women's Workshop)
In the Expecting to See Jesus small group Bible study, Anne Graham Lotz delivers a new message from the Mount of Olives in Israel and issues a wake-up call using the signs of Jesus' return.  Discuss the experience of a deeper, richer relationship with God through a life-changing, fire-blazing revival.
– Wednesday, September 21 –
Leadership 2: How to Lead Your Group Towards Care
Pastor Chad Cowan • Sep 21 – Oct 19 • 6:45-7:45 PM • Room 3101/02 (Attend 1 of the 4 dates available)
This class is for Community Group leaders. In this class, we'll discuss practical care items (like visiting folks in the hospital), as well as how to generally provide good care for members of our community groups. All four nights will have the same material, so leaders need only attend one session.
The Doctrine of the Holy Spirit
Pastor Matt Friend • Sep 21 – Oct 12 • 6:45-7:45 PM • Room 3103
Join us as we answer the following questions from the Bible…
Why is the Holy Spirit important?
Why so much disunity over the Spirit of unity?
What kind of personality does the Spirit have?
Can we be sure the Holy Spirit is God?
What did the Spirit do in ancient times and what's he doing today?
How can we be practically and personally transformed by the Spirit?