Saturday, October 8 • 9 AM – 4 PM • Worship Center
A few memorable hours.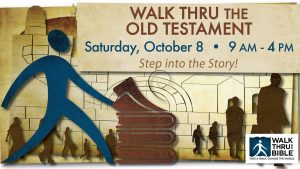 4,000 years of history.
An epic adventure!
Adam and Eve. David and Goliath.
Jonah and that pesky fish.
It's not just about them. It's about YOU.
Experience God's Word as you've never known it before by seeing the big picture of the Old Testament and how it all fits together. Most of all, you'll develop a deeper connection with the God who wants you to know Him and will never stop pursuing your heart. Everyone–including children–is invited!
[su_youtube url="https://youtu.be/vkk63Ua1k0I"]
What is Walk Thru the Bible?
Walk Thru the Bible is a highly engaging, dynamic, and memorable event that helps you understand God's Word and make the connection between His story and yours.
How will this event ignite a passion for God's Word?
Understanding God's Word is the key to making the connection between a God who is impersonal and far away and a God who loves you and wants a relationship with you. As you're learning God's story, you're developing insight into yours. These live events put the pieces of the Bible together in a way that connects with your head, heart, and hands.
Step into the Story!
Experience the story of the Bible in a way that makes God's Word come alive.
Learn 77 hand signs designed to help you understand the big picture of the Old Testament.
See beyond the facts of the Bible and spark a passion for God's Word in your life.
Registration Details
Held at Bible Center Church, Worship Center. Lunch is on your own.
Register by paying online. Walk-ins welcome, but not guaranteed a workbook.
Cost: $12/person (includes workbook); children will be admitted free of charge.
For more information, contact Sheri Skidmore.