Pastor's Letter
Dear Friends,
Welcome to Bible Center! If you're new here, you've chosen a great Sunday to join us.
Bible Center School led us in an unforgettable patriotic program on Friday, and we're grateful for the Kindergarten – 2nd graders, along with the Middle School chorus, who've returned to serve us today.
This Veteran's Day has been uniquely moving for me. The events have recalled my grandpa's WWII stories. In 1945, my grandfather, Lloyd Friend, was drafted into the US Army Air Corps. He relished to tell his grandchildren about being shipped out through Fort Dix, NJ and floating past the Statue of Liberty. To a Clay County boy, New York City seemed like another world!
Upon landing in the port of Le Havre, France, his group stayed in tents before being sent to Germany. He remembers trying to sleep in the near freezing temperatures and longing for the warm coal stove of his home. He never shared many serious stories, but we enjoyed hearing about the time his lieutenant forced his group to scrub the barrack's floor with a toothbrush because of a comrade's disobedience.
He remembered his army laundry number better than his Social Security number. Without it, he couldn't retrieve his clean clothes or his paycheck. He could recall that number until his death (2014), and I carry his identification "dog" tags in my pocket today as a personal reminder.
Let's pray this Veteran's Day service brings honor to the Lord, and to the men and women who have served our country so faithfully.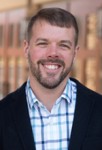 For the City,
Matt Friend • Senior Pastor
@PastorMattBCC
Next Sunday's Message:
Who Will be Welcome Here in 2020?
Romans 15:1-7
Announcements
Come By… 9-to-5!
Our church family is encouraged to view our campus as a regular part of our weekly lives, so come by! Your Bible Center Church building is open every weekday, 9 AM to 5 PM. You'll find open doors and smiling faces.
Relax in the Gathering Space, pray in our Prayer Room, enjoy the new Library, or simply rest and unwind.
Hike, bike, walk, jog, or stroll through the beautiful outdoor areas that God has provided for us.
Feel free to bring a friend, or come by yourself, and enjoy our pleasant surroundings.
BCS Veterans Day Wallpaper
Desktop and mobile wallpapers from the BCS Veterans Day Program are available at BibleCenterSchool.com/downloads.
Special Needs "Buddy"
Do you love kids? Do you have a heart for those with special needs? We have opportunities for adults to be one-on-one companions to children within our ministry. A caring heart, a love for our Lord, and a willingness to complete a background check are all you need! Email Michelle Thompson.
AWANA Collection
Children are encouraged to bring canned goods to AWANA for the Food Distribution now until Nov. 16.
No AWANA Clubs
Due to the Thanksgiving Break, there will be no Club on Nov. 19. Clubs will resume on Nov. 30.
Elders Meeting
Thursday, November 17 • 6:30 PM • Rm. 3102
GriefShare: Surviving the Holidays
Sunday, November 20 • 6-8 PM • Rm. 2104 • If you're anxious about the upcoming holidays and wondering how you'll make it through this normally celebratory time of the year, consider attending this special seminar. You will learn:
What to do about traditions and other changes;
Helpful tips for surviving social events; and
How to discover hope for your future.
The class consists of a 40-minute video, a book, and personal discussion (optional). This seminar is open to the public as well as to BCC attenders.
Bible Center Thanksgiving Service
Tuesday, November 22 • 6:30 PM
ManUp! 9th Annual Thanksgiving Eve Luncheon
Wednesday, November 23 • 11:45 AM-1:00 PM • You're invited! Join us for the ManUp! 9th Annual Thanksgiving Eve Luncheon at the Brick Salt Restaurant inside the Marriott Hotel. Enjoy a delicious lunch buffet with music and great fellowship! This year's speaker will be Pastor Matt Friend. No registration required. Cost is $15. For questions, email Bill Tanzey.
It's Time to Deck the Halls
We'll be decorating the church for Christmas on Tuesday, November 29 at 6 PM. If you'd like to help, email Paula Toney. The more, the merrier!
OWLS Trip to the Greenbrier
Thursday, December 1 • $10 • Take a road trip to see the beautiful holiday decorations! Bible Center buses leave from Bible Center School at 8 AM, so please arrive sooner. Lunch is on your own. For questions, email Judy Mercer.
Parent's Night Out
Saturday, December 3 • 4-7 PM • Parents, the Student Ministry is giving you an opportunity to have an evening to yourselves for a date night, shopping, Christmas party, etc. The evening for your child will include a craft, games, dinner, music by FusionBand, and a devotional. For questions, email Tiffany Korth.
OWLS Christmas Brunch & Baskets
Saturday, December 10 • 9:30 AM • Calling all OWLS! We will be having a delicious brunch with music and assembling Christmas baskets to our friends with special needs. Items and monetary donations are also being accepted for basket items. To view the list of needed items, reserve a seat for the brunch, or volunteer for basket delivery, go to our website or app, or email Judy Mercer. 
Christmas Service Nursery Volunteers
Bible Center will have birth to 2-year-old nurseries at the  4 PM Saturday service and the 10 AM Sunday service. If you are willing to volunteer during either of these services, please contact Michelle Thompson. Families or groups who would like to serve together are welcome in addition to individuals.
Custodian Position Available
Bible Center Church has an opening for a part-time, evening shift custodian. Anyone interested should email Steve DeBord.
Afternoon School Bus Driver Needed 
Bible Center School  has an opening for a bus driver. Pay is $10/run. Email Josh Bacchus or call the school at (304) 941-1704.