Pastor's Letter
Dear Friends,
Welcome to Bible Center! We love having you here.
It's our joy to welcome The Children's Home Society and Mission West Virginia. Many thanks to our Early Childhood Director, Michelle Thompson, and one of our deacons, Brian Wadsworth, for making these connections for us. November is National Adoption Awareness Month!
For years, both organizations have served our region with adoption and foster care leadership. Since Bible Center wants to join the conversation, having them here today is the first step in this endeavor. Please visit their tables in the Gathering Space and make them feel welcome.
As we worship today, let's remember God's call to defend the fatherless and motherless. By His grace, we who were once spiritual orphans are now adopted as children of God.
Pastor Caleb, a father who adopted a beautiful daughter a few years ago, will begin the service by asking us to read a few words from Psalm 68: Sing praises to God and to His name! His name is the LORD—rejoice in His presence! Father to the fatherless, defender of widows—this is God, whose dwelling is holy. God places the lonely in families.
Let's revel in God's grace today, and dream of how we can show this grace to our region in more radical ways!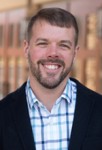 For the City,
Matt Friend • Senior Pastor
@PastorMattBCC
Next Sunday's Message:
The Excruciating Commitment
Luke 1:5-80
Announcements
Got Questions?
If you're new, have questions, or need help hosts and hostesses are available. Look for them standing under the ( ? ) sign at the Info Desk. They'll be happy to assist you!
Come By… 9-to-5!
Our church family is encouraged to view our campus as a regular part of our weekly lives, so come by! Your Bible Center Church building is open every weekday, 9 AM to 5 PM. You'll find open doors and smiling faces.
Relax in the Gathering Space, pray in our Prayer Room, enjoy the new Library, or simply rest and unwind.
Hike, bike, walk, jog, or stroll through the beautiful outdoor areas that God has provided for us.
Feel free to bring a friend, or come by yourself, and enjoy our pleasant surroundings.
Are you looking for a quick way to message or connect with us? Download the Bible Center app to send a message, submit a prayer request, or let us know you visited with us. Once you open the app, just tap "Connect." We'd love to hear from you!
Our Daily Bread
The latest copy of Our Daily Bread devotionals are now in the Gathering Space.
It's Time to Deck the Halls
We'll be decorating the church for Christmas on Tuesday, November 29 at 6 PM. If you'd like to help, email Paula Toney.
OWLS Trip to the Greenbrier
Thursday, December 1 • $10 • Take a road trip to see the holiday decorations at the Greenbrier Resort. Space is limited so register soon. Please arrive at Bible Center School by 7:45 AM. Lunch is on your own. Questions? Email Judy Mercer.
Men's Fellowship Breakfast
Tuesday, December 6 • 7:30 AM • Shoney's  • Dutch treat • All men of the church are invited!
OWLS Christmas Brunch & Baskets
Saturday, December 10 • 9:30 AM • Calling all OWLS! We will be having a brunch with music and assembling baskets to our friends with special needs. Items and monetary donations are also being accepted for baskets. To view the list of needed items, reserve a seat for the brunch, or volunteer for basket delivery, contact Judy Mercer or go to BibleCenterChurch.com/register.
Christmas Service Nursery Volunteers
Bible Center will have birth to 2-year-old nurseries at the 4 PM Saturday service and the 10 AM Sunday service. If you are willing to volunteer during either service, email Michelle Thompson. Families or groups who would like to serve together are also welcome.
Baptismal Class
Monday, December 12 • 6:30 PM • Rm. 2104 • 
If you are interested in being baptized, we ask that you attend our Baptismal class. Please come prepared with your salvation testimony written out and bring a current photo or be prepared to have one taken. The next Baptism service will be on Sunday, January 8, 2017.
Family Skating Party
Friday, December 16 • 5:45-7:45 PM • $6/person You and your family are invited to attend our Family Skating Night at South Charleston Memorial Ice Arena (near Target). This is not a church only event–the rink will be open to the public.
Volunteers Needed for the Union Mission Gospel Service & Christmas Food Distribution
Saturday, December 17 • Praise God that 400+ families were served and many were saved or rededicated their lives to Christ at the Thanksgiving Food Distribution. Now, we are looking for volunteers for the Christmas Food Distribution. If you are interested, contact Sheri Skidmore.
Special Needs "Buddy"
Children's Ministry has opportunities for adults to be one-on-one companions during our services to children with special needs during our services. A caring heart, a love for our Lord, and a willingness to complete a background check are all you need! Email Michelle Thompson.
Bible Center School Bus Driver Needed 
BCS has an opening for a bus driver from 3:00-4:15 PM. Pay is $10/run. Email Josh Bacchus (jabacchus) or call the school at (304) 941-1704.
Last Week for Photo Directory Portraits 
Nov. 29 and Dec. 3 are the two remaining days to get your picture taken for the Bible Center Photo Directory–after this photography will close. All church attenders, not just members, are encouraged to participate–you'll get a free 8×10 and directory. You can schedule your own appointment at BibleCenterChurch.com/directory. Or contact Roslyn Dy.