The Christmas Card Offering stands as one of the unique holiday traditions at Bible Center. Over the years it has funneled hundreds of thousands of dollars to important, effective, and sometimes unusual global outreach projects.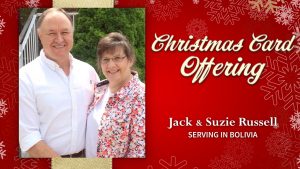 Jack and Suzie Russell, rooted in WV and a part of the Bible Center family, have spent the more than 10 years translating the Bible into Simba Guarani.  This language is spoken by about 9,000 people in about 65 very remote villages in Bolivia, South America.  Many have been saved, but many more are hungry to hear the good news.
[su_vimeo url="https://vimeo.com/195013564″ width="480″ height="280″ autoplay="yes"]
Here's the plan
Our goal is to accomplish four things:
Provide a used 4-wheel drive vehicle in order to better access more of the villages using roads that barely exist. ($20,000)
Distribute the new translation to those who'll have the Bible in their language for the first time.  ($10,000)
Purchase a portable bakery oven to allow one of the converts to conduct a business to support him and his family while he engages in full-time evangelism.  ($1,400)
Support a circuit riding (driving) preacher for a year.  ($3,600)
Your offering can be:
sent with a Christmas Card to the church,
offered online at the photo booth in the Gathering Space,
given through the Bible Center app (tap Give, and choose "Christmas Card Offering,"
or placed in an offering basket  with a check marked CCO (Christmas Card Offering).
Let's pray God will enable us to do a great work in one of the "uttermost parts of the earth!"
Note: As always, any excess funds collected for this project will be used for Bible Center purposes at the discretion of church leadership.