The generous offerings from the people of Bible Center Church enable wonderful ministries to be accomplished for the glory of God.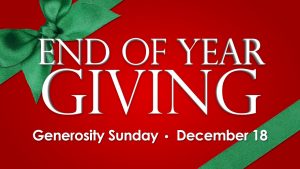 The work of Bible Center in our city, and outreach endeavors around the world, depend on our contributions. December is usually the month in which offerings are the highest and the budget is built with that in mind. Here is some helpful information about giving as we approach the end of 2016.
Generosity Sunday
In conjunction with the sermon on December 18th, we have designated the day as Generosity Sunday. At the end of the service, we will give our offerings together as a church family, in an effort to finish 2016 strong. Please pray about what the Lord might have you give on this special day.
[su_vimeo url="https://vimeo.com/196321540″ width="480″ height="280″ autoplay="yes"]
General Tithes & Offerings
Regular gifts fuel all BCC endeavors. It's how we keep the lights on, support our global outreach, children and student activities, pastoral ministries, worship services, and all that we do as a church. The cumulative total of contributions budgeted for the general fund in November and December is $853,000. This is a lot more than the normal amount for two months and represents a significant challenge. God will help us.
Building Fund
Over the years this fund was known by different names, most recently Fast Forward. It is the account from which we pay our monthly mortgage. The good news is that the mortgage payment was recently reduced from nearly 25% of our annual budget to less than 20%. But the dollar amount is still significant. In November and December our budget calls for $281,000 to be received in this account… another large amount, but God, through us, can do it.
Ways to Give
In addition to placing offerings in the baskets on Sundays, increasingly people are giving online through Pushpay, available on our app. To get started, simply text BCCWV to 77977 or go to BibleCenterChurch.com/give. If you have any questions about giving online, giving stocks, giving from retirement accounts, giving by mail, or other ways to give please contact our Executive Pastor, Lee Walker.