Pastor's Letter
Dear Friends,
Welcome to Bible Center!
On Tuesday, one of our older members rehearsed his salvation story. His detail drew me in as if I had gone back in time. A particular song had left an impression on his soul, Blessed Assurance, Jesus is Mine, the 1873 hymn written by the blind Fanny Crosby. Every time we sing this in a worship service, he has fond memories of the day he started following Jesus.
This reminded me of our 10-year-old daughter's salvation experience. During one of our road trips back and forth to Louisville last year, we were listening to the modern worship song, Oceans (Where My Feet May Fail). Riley had struggled understanding saving faith, but during the picturesque song, she interrupted, "I get it now! Faith is like floating on the ocean and clinging to a life raft. I need to trust Jesus alone for my salvation!" Every time we sing this song in a worship service for decades to come, our daughter will have fond memories of the day she decided to follow Jesus.
Which of these can we sing in our worship services? Both!
Now that we've moved to one multigenerational worship service format, we will strive to include elements that touch our youngest and oldest saints. We desire to be a church where grandchildren love worshiping with their grandparents. Please join our elders, pastors, and me on this journey with open Bibles and open hearts. Check out our video and Bible study at BibleCenterChurch.com/worship, or on the app (Connect > Worship).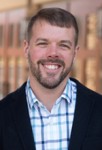 For the City,
Matt Friend • Senior Pastor
@PastorMattBCC
Next Sunday's Message:
When God Sings
Zephaniah 3:17
Announcements
The Bible Center App
Use the Bible Center app to look up or register for an event, submit a prayer request, or let us know you visited. Download it from your usual app store or go to BibleCenterChurch.com/app.
Time Change: GriefShare
The Tuesday evening GriefShare Workshop now begins at 6 PM, not 6:45 PM.
Ladies Low Impact Exercise Class
Mondays & Thursdays • 6-7 PM • Bible Center School 1st Floor • Free • Want to stay active during the winter? This class is good for moving the whole body without all the stress! If you're starting out, dealing with an injury, or just want to stay fit, this class is for you. No registration needed and classes have already started. Bring your own mat.
Tuesday Morning Ladies Bible Study
Tuesday, January 24 • 9:30 – 11:00 AM • Rm. 2104 • 7 lessons • Seamless: Understanding the Bible as One Complete Story by Angie Smith • Gain an overarching understanding of the layout and meaning of God's Word! Seamless covers the people, places, and promises of the Bible, tying them together into the greater story of Scripture.
Food Items Needed For Crossroads
Sign up on BC Central or contact Sheri Skidmore to donate items for the UM Crossroads Dinner & Gospel Service. The dinner will be prepared on Thursday, Jan. 26 solely from the food collected here. All items must be received by the end of Jan. 25. Volunteers are also needed to prepare and to serve.
Become a School Volunteer
Are you retired and looking for a way to impact children? Bible Center School is looking for volunteers to help students in different ways such as reading, math, mentoring, etc. Set up a schedule that is convenient for you and work with the grade levels you're comfortable with. Email Principal Josh Bacchus for more information.
2017 Offering Envelopes
Personalized offering envelopes are now available in the Gathering Space behind the fireplace. Pick yours up today. If you have questions about church contributions, email Michael Adkins.
OWLS Chili & Game Night (Adults ages 55+)
Friday, January 27 • 5-8 PM • RIM (Bible Center School) • Join us for the first OWLS event of 2017! We'll have a chili dinner, followed by some bingo games. Confirm your attendance (and opt to bring food) by signing up online or contacting Judy Mercer.
AWANA
Some of our T&T Clubbers will be participating in Bible Center's in-house Bible Quiz on Feb. 1 during the regular club hours.
Mystery Clue Game (5th Grade)
Sunday, January 29 • 4-6 PM • Free • Kids and their friends are invited! Teams will be formed and the first team to solve the mystery wins a prize. Food will also be served. For questions, email Pastor Richard Thompson.
Exciting News for Fusion Students!
Our high school teens will begin serving in our church every 4th and 5th Sunday of the month during the 10:45 service. We'd love to get your student plugged in. Questions? Email Pastor Matt Garrison.
Parents of Element and Fusion Students…
We want to inform you about an upcoming sermon series we will be teaching our students. On Feb. 1, the Student Ministry will launch a 3-week series called Exposed: Understanding Biblical Sexuality. This series is intended to give students an overview of God's plan for marriage, sex and dating. Visit BibleCenterChurch.com/parents or email Pastor Matt Garrison or Director Josh Willetts for more information or questions/concerns you may have.
Save the Date: Insomnia (Fusion & Element)
Friday, February 24 • 8 PM-6 AM (Sat.) • Meet at the RIM • $40 • You'll definitely want to be a part of this annual extravaganza! Online registration is open Feb. 1-19 and cost includes food, drinks, and entry to all events.
Pastor Matt's Books
Almost every Sunday, Pastor Matt recommends a book related to that morning's sermon for additional study. If you would like to see the full list of books that he has recommended, go to BibleCenterChurch.com/books.