Friday, February 24 • 7 – 9:30 PM • Worship Center
RSVP by Sunday, February 19.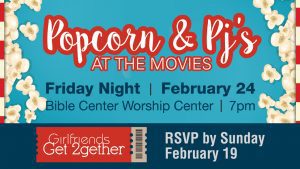 Bring your girlfriends for a giant slumber party at church. Wear something cozy, and bring a wrap or pillow to curl up with. We'll supply a complete popcorn bar with all the toppings, and we'll watch the movie "War Room" on the big screens. This movie will be a great encouragement and challenge to your prayer life. Open to girlfriends from grade school to great-grandmas, this event won't be a snooze!