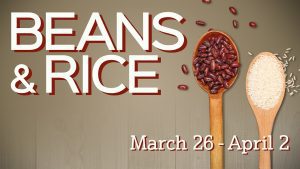 From time to time, many families experience need. To help meet these needs, we are asking everyone in our church to eat differently and less expensively during the week of March 26. You can do this in various ways (e.g., only eat beans and rice, pack your lunch when you go to work, only eat at home, etc.).
On Sunday, April 2nd, we ask that everyone bring their gift that equals the amount that was saved by having changed their eating habits. The benevolence ministry will then use these resources to help those in our church family who are hurting.
March 21 • Grab some recipes from the Beans & Rice wall!
March 26 – April 1 • Church-wide Beans & Rice Kick-off!
April 2 • Bring your Beans & Rice offering.
April 9 • Celebrate what God did through the gifts of His people!