Friday, April 7 • 6 PM • The RIM at Bible Center School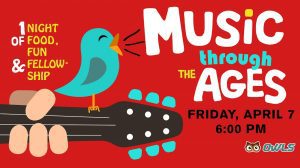 Enjoy music from your earlier years! The OWLS will be playing various musical guessing games at the next get-together. Burgers, hot dogs, and root beer floats will be served. You may opt to bring a side item or dessert as well. Cost is $5 (pay at the door).
Registration
Registration is required for this fun, first-time-ever, fellowship event.