Sundays • April  16 & 23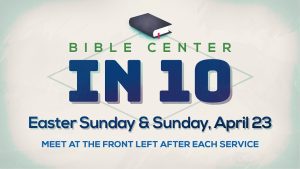 Are you new and interested in learning about Bible Center Church? After each service on April 16 & 23, Pastor Matt Friend will take 10 minutes to share Bible Center's vision and mission.
Please meet us at the front left section of the Worship Center (the pulpit's right side). Feel free to retrieve your children from Base Camp and bring them along, too.
We want you to leave feeling connected, at home, and that you have a good, overall view of what Bible Center is about. And if you haven't yet received a Welcome Bag, we would love to give one to you as well! Our staff will be passing them out at our meeting.